Doctors of chiropractic diagnose, treat and help prevent conditions and disorders related to the back, neck, pelvis, extremity joints and the effect they have on the nervous system.
The main form of treatment chiropractors deliver is called an adjustment – a non-invasive procedure consisting of a precise directed movement to help relieve pain and discomfort, and restore range of motion. Sometimes chiropractors will also use other therapies like massage, heat, laser and ultrasound.
A chiropractor does not prescribe drugs or perform surgery, but may make a referral to medical specialists for such treatment when appropriate.
In addition to adjustments, chiropractors also counsel patients regarding nutrition, lifestyle and exercise.
Direct Billing is Available to most Insurance Companies for Chiropractic Services, Massage Therapy, Custom Made Foot Orthotics, and Compression Stockings.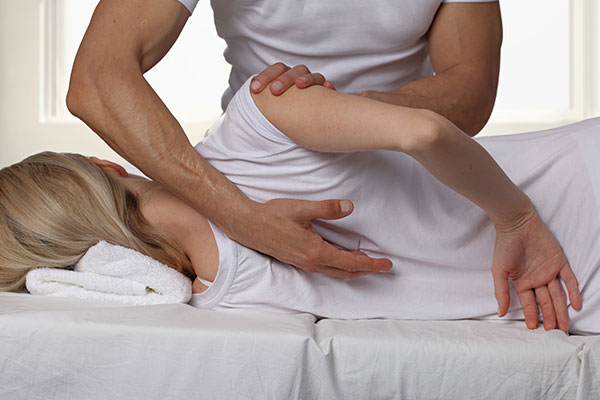 What to Expect
All chiropractic patients will experience an initial assessment before treatment.
You will be asked to share information about your health, such as any injury or surgery, medications you are taking and family health history.
The first visit will take longer than following visits, because a physical assessment will be conducted based on the reason for your visit. The assessment might include posture, range of motion, reflexes, and other orthopaedic and neurologic tests. You may also be sent for x-rays.
Following the physical assessment, we will talk with you about your diagnosis and treatment plan before you receive treatment/an adjustment. This might happen on the first visit, but most likely you will be asked to make a second appointment so that we can fully consider your needs and develop your treatment plan.
If you have any questions about anything during your treatment, always ask.
Conditions Treated
With 2 decades of experience, Dr. Nav Basi and his team have delivered excellence in patient care for individuals who are looking to dramatically improve their health. We provide specialized Chiropractic treatment and Massage therapy for the following conditions:
Back and neck pain

Headaches, including migraines

Whiplash and car accident injuries

Strains and sprains from day-to-day tasks to sports injuries

Workplace injuries (see our WCB information)

General health and well-being
People who also suffer work, auto or sports injuries often seek pain relief and healing from a chiropractor. Having an individualized treatment plan can make an incredible difference for patients living with back, neck, joint or muscle pain.
Direct Billing is Available through most Insurance Companies for Counselling Services. We direct bill the following extended medical insurers:
Alberta Blue Cross
Sunlife
Manulife
Canada Life
Green Shield
Industrial Alliance
Desjardins
Equitable Life
First Canadian
Maximum Benefit
Johnston Group
Johnson Insurance
SSQ Financial
Medavie Blue Cross
The Co-Operators
NexGen Rx
Manitoba Blue Cross
Cowan
Chambers of Commerce
CINUP
Request a Consult
South Edmonton Chiropractic Centre
#106, 2603 Hewes Way NW
Edmonton, AB T6L6W6
780-462-6060
Call today to book your next
appointment with our Chiropractor, Counsellor, or one of our
Registered Massage Therapists.